Cornish Mines Underground 1: I have been caving and exploring since the age of 15, I am now in my 50's and still going when I can. My friend Dave also started around the same age, we work well together underground. It is so imperative you have somebody to rely on. As a result we work well together and we trust each others judgement. I also know if I had a problem I could rely on Dave to get me out. However, even with all these years of experience, we never take undue risks, we are as safe as we can be, and somebody always knows where we are.
The images on this page were taken in an abandoned C19th Copper Mine near to the village of Chacewater. The Copper and Tin workings here date back to the 1880's when the mine closed. However they were re-entered at later times in the mine's history during the 1970's and 80's when other mines in the area were operating.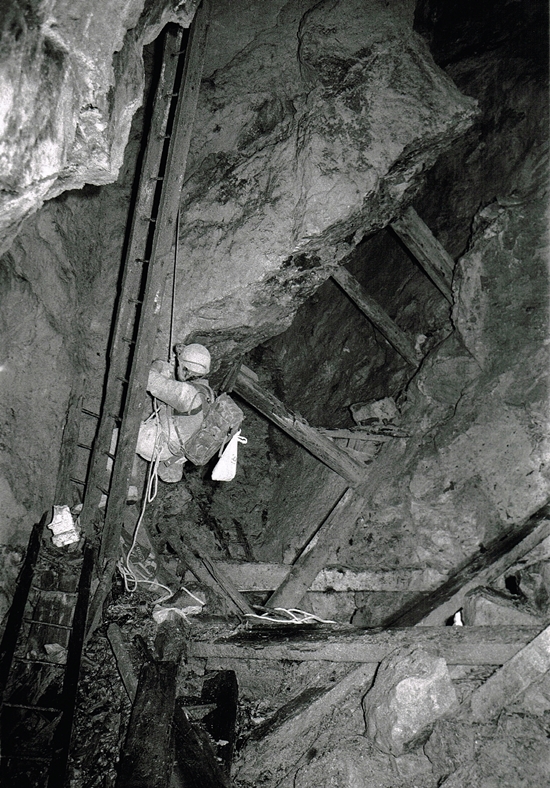 The colours underground caused by mineral deposits can be incredible, when using Black and White film the impact of this is lost. However, the detail and atmosphere of a monochrome image can really capture the "feel" of the Mine.
Sometimes when underground the sights you are privileged to see can take your breath away. So, this is one such place, the huge stopes and timbering are frankly amazing.
Getting into the mines is the easier part. However after a long and energetic trip getting out is too much like hard work.
I must say again, NEVER enter old Mine Workings without the correct training, experience and equipment. The fact that the images are on the following pages DOES NOT infer access or permission. There are many groups in Cornwall active in underground exploration.
Please check on the internet and go underground in safety with experienced explorers, never take risks, never just pop in for a look.
Cornish Mine Gallery Underground 2