Cornish Mines Underground 3: It is always quite difficult to take photographs underground, it's not so much the conditions but its getting the equipment down there in the first place. Then after the trip it has to be carried out, often up a long rope.
It is probably a good reason to change to digital, but I enjoy 35mm too much, the challenge is greater. At the end of the day the best way to learn is to get it wrong, learn by mistakes.
This page contains images of several sites entered at various times over the last few years, access is always dangerous and should never be attempted by the inexperienced.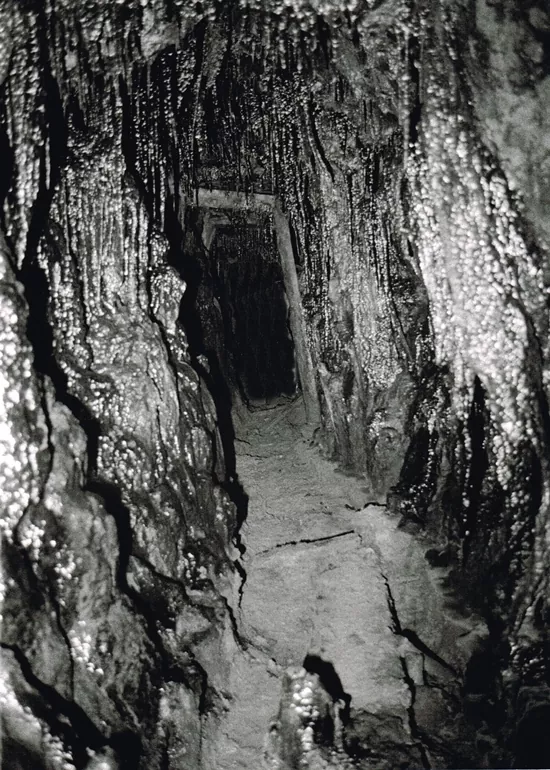 The main pumping shaft of the mine is a short distance into the workings. It contains the "holy grail" of underground exploration, the shaft still contains rising main and pump rods.
It is very rare to find such survivals underground as these were usually removed and sold when the mines closed.

A change of location, this is Dave and myself exploring various adits in the St Just area. Poking around in adits is always very dangerous and should not be attempted. Between us we have a total of 60 years experience of exploring underground, and we still get scared.
The next few images are of a deep shaft around 300ft in the Pendeen area. So, to keep each other company we used two ropes. It was so interesting with several levels coming off it. Rather than just being a shaft it was like dropping into an open stope as it had been mined away at either side.
A mine near Twelveheads showing part of a recent re-working during the 1980's. This was an emergency exit and a main tramming level.
The next few images were taken around the Botallack Mine, St Just.
It is a short distance around the cliffs to the remains of Wheal Cock. This was involved with Botallack Mine in the last period of working during the early 20th Century.
I must say again, NEVER enter old Mine Workings without the correct training, experience and equipment. The fact that the images are on the following pages DOES NOT infer access or permission. There are many groups in Cornwall active in underground exploration.
Please check on the internet and go underground in safety with experienced explorers. So never take risks, never just pop in for a look.
Cornish Mine Gallery Underground 4