Cornish Mining Documents: So, I love collecting paperwork from a bygone age. It seems like many hours of looking at ebay and junk shops in the hope of finding something interesting has certainly paid off to some degree. The fantastic quality of design on some of the share certificates is wonderful. So ornate and impressive to those adventurers looking for an investment. Certainly very tempting.
There are also Mine Reports for shareholder Issues and various letters. Along with notices and checklists from Mount Wellington Mine during the 1980's, in addition some salvaged South Crofty paperwork.
Cornish Mining Documents: Dolcoath Mine "The Queen of Cornish Mines"
The paperwork below is from Josiah Thomas who was the Dolcoath Mine Captain from 1867 to 1895. He firstly introduced compressed air drilling machines to the mine in 1876, also Californian Stamps in 1892. He was duly appointed managing director of the mine in 1895 and sadly died in October 1901.
The Dolcoath Mine Report, this was issued in 1881 certainly a piece of History.
A Dolcoath Mine Share Certificate, this is dated 1911. This was issued in an attempt to fund the final years of the mine operation.
Next is the General Manager's Report to the 30th June 1914. It is interesting to note on the Chairman's Report page 3 it is reported that the Carn Brea Section had been relinquishe. Meanwhile work will be concentrated on the Tincroft Sections of the Mine.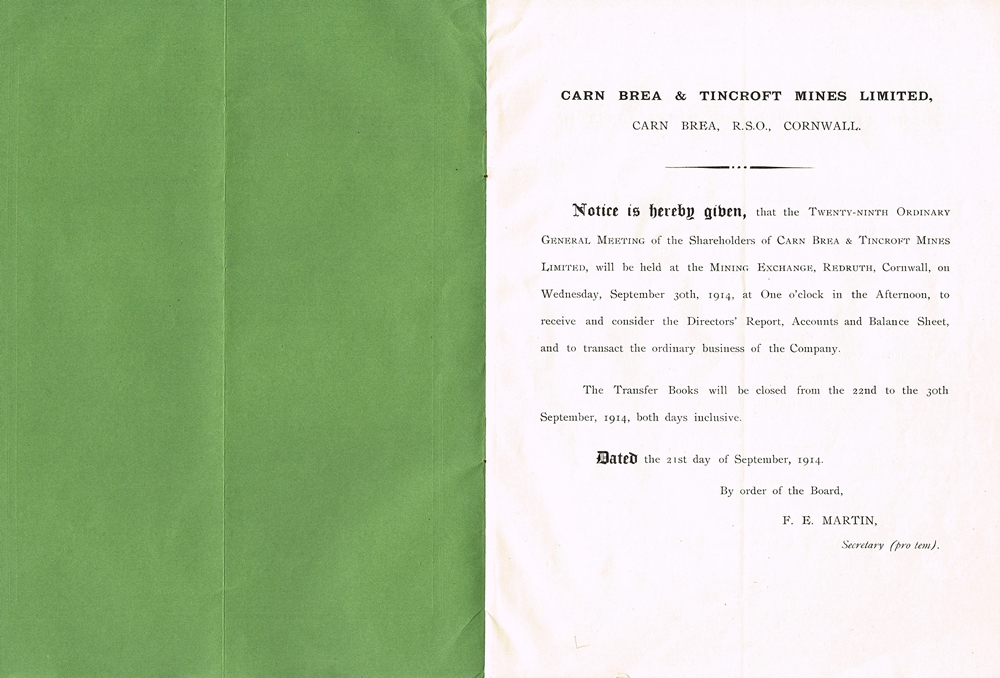 Below are a small selection of letters also from Tincroft Mine. The dates vary from 1917 – 1920, also it is interesting to see the changes in the letter head over those years.
Cornish Mining Documents: St Ives Consols (Giew Mine)
In 1907 the mine was consequently re-opened as part of "St Ives Consolidated Mines" along with other local setts.
Cornish Mining Documents: East Pool and Agar Mine
A pay sheet for Castle-an-Dinas Mine dated 9th December 1933. Probably one of my favorite pieces of history.
Another Share Certificate, probably the best I own, brought in an on line auction.
The documents below on the Mining Methods were given to me on while I was on my first visit to the mine in 1992 so many years ago.
Also, these important documents were fortunately rescued from a skip at South Crofty Mine after closure in 1998.
Finally, the documents below were similarly found in a skip when the site was being cleared out. Sadly there was so much paperwork and history was just thrown away.
So, that is it for the moment on this page, it will certainly be added to again soon.