Geevor Tin Mine Gallery 6: The images on this page were all taken in and around the Miners Dry. I was fortunate enough to be given the keys and left to explore on my own with was both a surprise and an honour.
It was after I had been to the mine several times taking my photographs and I was obviously on the "trusted" list.
So, wandering around alone in the dark was very spooky and atmospheric. Every time I turned around I expected the lights to turn on, followed by a shift of miners after their work underground. It was an experience I will never forget. Once again Bob Orchard has supplied much of the information.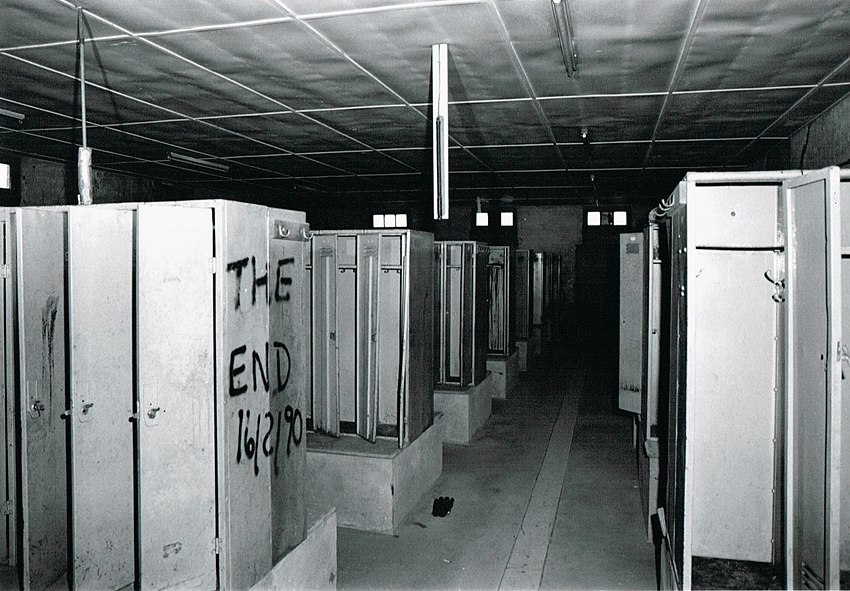 Today the dry is open to the public as part of Geevor Mine Museum, the visitor can get a sense of the atmosphere this place once had. Pictures of miners are spread around along with underground clothing and everyday equipment arranged on the benches.
It is well worth going in on your own and shutting your eyes in a quiet corner, you will almost hear the miners coming off shift.
The next set of images are in the shower and washing areas.
There were seperate rooms in the Dry, for the different workers. The Mine Captains and the Mine Management each had there own dry's.
It is with great regret that I never had the chance to drop the shaft and see the mine and the miners at work. I was only a short time too late.