South Crofty Robinsons Shaft 2: this page has images taken at the site over a period of time. I have tried to place them into chronological order.
Sadly I took no pictures of the site after it had been securely fenced off after the fires. I think it upset me too much to see such a wonderful opportunity for an amazing preservation, go up in smoke.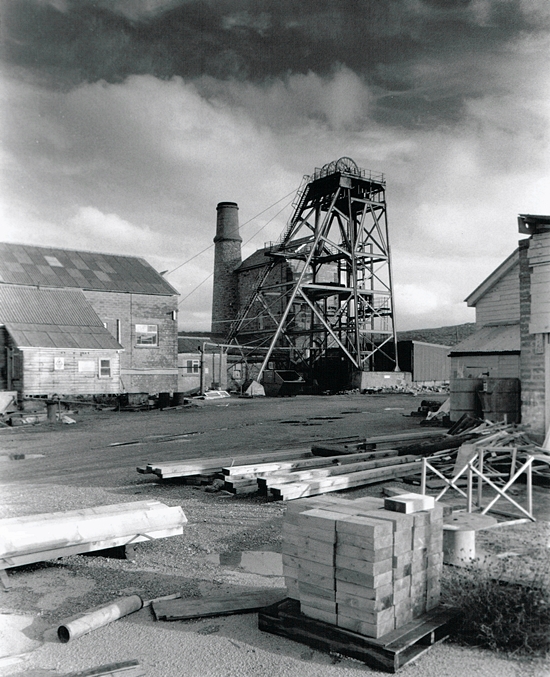 The headframe is 77ft high standing proudly over the shaft. Originally made of wood, during 1925 it was replaced by a steel frame which was built around the existing so the mine could continue operating.
The small building behind the headframe contains the capstan winch, behind that the Electric Winder House.
The chimney behind used to serve the Steam Winder and Compressor House.
When the pumping engine was retired the stack of the engine house was reduced in height. Also the rear balcony "Bob Plat" used to maintain the beam, was removed.
So at the back of the site on the Station Road side there was a rare treat. Placed on wooden blocks there was a single flue Cornish Boiler. Amazing, but there are not many of these in Cornwall nowadays.
The shaft here was 150 fathoms deep but narrow and crooked, it could take only a single skip. When Robinson's started to operate it replaced Bickford's and took over as the main haulage shaft of the mine. The square chimney was for a steam hoist that served the shaft.
South Crofty Mine Bickford's Shaft
The South Crofty Robinson's complex was unique and I loved the time I spent there. In so many ways it felt I was intruding on the peace that prevailed. By no means did I cover all the site but I hope the images on this page convey the mystery. Along with the atmosphere and some magic of the place.
South Crofty Mine – Robinsons Shaft: 3